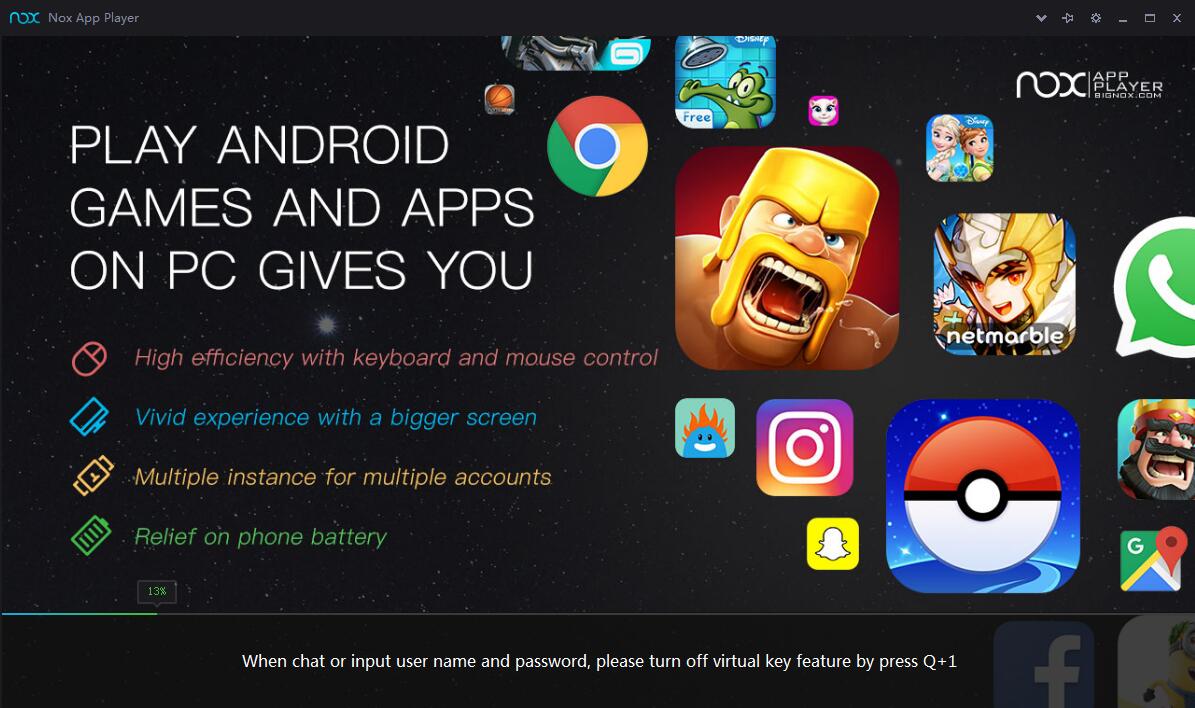 Hello Friends How Are you ?Today I will show How to Run Android Apps on Your PC or Mac using a Android emulator Software Called Nox .
What Is Nox :
Nox App Player is the latest android emulator released recently. An android emulator or app player is the software that allows users to install android app and game on PC or Laptop. Millions of users are using android emulators to play android games and use android apps on their computers.
Nox App Player is not the only emulator available. There are many other android emulators available on the web like Bluestacks, Andyroid, Youwave, Droid4x,memu,andy etc. All of them are quite popular. But, Bluestacks emulator considers as the best android emulator by many users. Though bluestacks is the best among all, there are some flaws in it. We can not play some games on Bluestacks emulator. But, Nox app player is not like that. It has many advanced features in it that let you use any kind of android applications.
Nox App Player Features :
Fast and Smooth
Our cutting-edge engine brings you a game play experience that will surpass your mobile phone's. With leading technology based off Android 4.4.2 & 5.1.1, compatible with X86/AMD, it's stable, fast and reliable.
Absolute Compatibility
Compatible with games and apps, including new and popular titles. Whether you're old-school or a newbie, you'll definitely find something fun to play on Nox.
All Features Included
Supports keyboard, game pad, script recording and multiple instances. Use all of them at the same time! Anything's possible!
NoxPlayer 6.0.3.0 Release Notes
What's new:
1.Improved Macro recording, support restart emulator timely, automatically run the script after startup, batch import and export script, added slow play script function
2.Support moving the entire emulator data to an another storage location
3.FPS and Battle Royale games support setting the right mouse button to zoom "+-"
4.Keyboard control added 2.5D / 3D games to move the view feature
5.Macro button added "Home" and "Back" commands
6.Fixed known issues and optimized performance
How to Use Nox Android Emulator?
First of all Download Nox :
Move to the Nox file location folder(C:\Users\Admin-of-PC \Downloads\Programs) and start the installation. select Agree on the terms and conditions & click on Install option
Add caption
After That the Installation process will be started immediately.
If you are using online installing file, it will take 12-15 minutes to complete the installation. It will take 1-4 minutes for offline installation file.
Now the installation is completed, click on

Start

Button to get launch Nox app player.
The android emulator starts loading. It takes 1-2 minutes to load completely.
Once the loading is completed, you will see Nox App Player home screen on your PC.
You can see Google Play store, File Manager, Play Games and many more inbuilt installed apps on home screen.
Click on Google Pay Store to set up your account for future advantages.
Click on Existing account to login with your existed Google account details. If you want to create the new one, click on New and go for further steps. I have an existing account, so I go with the existing option.
After entering the details, do not press enter. Click on the large right arrow button which is in the bottom of the screen.
Follow the on-screen instructions and complete the account set up. You will see Google Play Store at the end.
There are more features available in Nox App Player. You can use them from the right sidebar. You can transfer the files from computer to Nox player using one of the features in it.
If you have an apk file, you can install it directly on Nox App Player.
To Conclude This is complete Tutorial about downloading and installing Nox App Player for PC or Laptop, the same process for Mac . I think this guide is very helpful and clear you can install Nox android emulator Now successfully with the help of it. If you still have any issues you can simply post your comment below.
Tags:nox app player for mac
nox app player review
nox app player system requirements
nox app player vs bluestacks
nox app player offline installer
nox vs bluestacks
nox player 5
app player for pc